1) What are Gimbal Premium Geofences?
They are geofences that are pre-built (to scale), human verified by Gimbal, and save customers the manual effort of building them on their own. With just a click of a button, Gimbal Manager customers can upload them to their account. Premium geofences go through our geofence creation process which scrubs location data and draws precise polygonal geofences around a set area. For more information, contact your Gimbal Representative directly or via https://gimbal.com/learn/enterprise/ for additional details.

2) Can I alter Premium Geofences once they are in my account?
Upon licensing Gimbal Premium Geofences, we will create a Gimbal Place for each geofence. Once the place has been created, you will NOT be able to modify that actual geofence (name, boundary, attributes), however you can edit the overall Place (including name and place attributes, etc).

3) Are they different from geofences that I build myself?
They're different in that the lat/longs cannot be altered, but as mentioned above, you can edit the Place name and add attributes after uploading them to their account. The Gimbal SDK will monitor for premium geofences just as it does for those the customer creates.
4) How much do they cost to license?
Fees vary and they are not included with the platform by default or under a quote for 'Unlimited Geofences.'

5) Which geofences are currently available?
We have geofences available across a number of categories and specific store/location chains. To see the categories and most up-to-date locations available, go to Gimbal Manager → Places → Import → Geofences. (Below is the latest as of 4/26/18)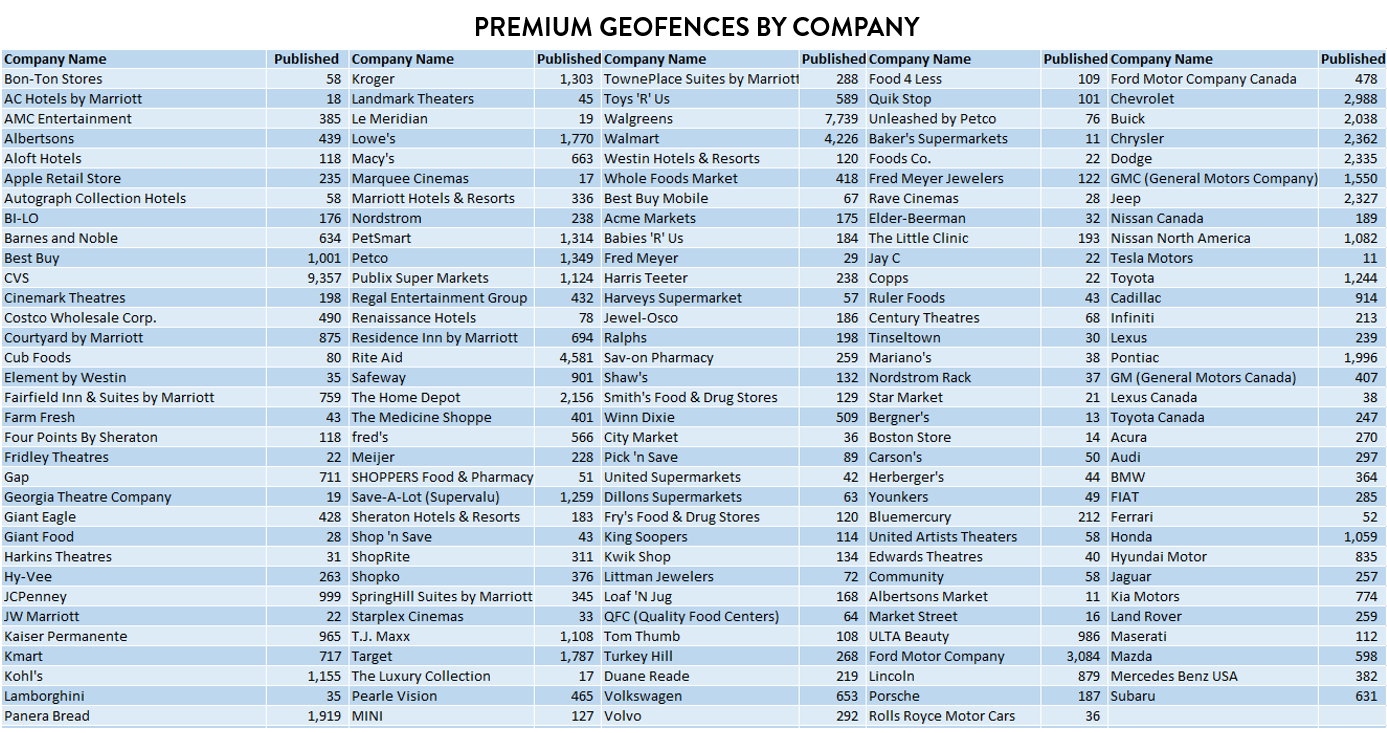 6) What if I want a category not listed, can you build this for me?
If you would like Gimbal to add additional categories or companies, please get in touch with your Gimbal Representative to discuss further.
7) What if a store/chain is not listed, can you build this for me?
Yes, same as above.
8) Is there a limit to the number of Premium Geofences that can be in my account/app/org?
No. There is no limit on the number of Premium Geofences that can be added to an Organization, however we suggest not adding more than 80,000 total 'places' to your account.


9) Once I license a set of Premium Geofences how will these show up in my Organization?
a) Upon licensing a set of Gimbal Premium Geofences, a Gimbal Administrator will create a new Place for each of the Premium Geofences that were purchased. b) OR, you can manually select the geofences to add to your account and they will be populated thereafter.


10) What is the turnaround time to get premium geofences into my account?
For geofences that already exist, Gimbal can have the new Places created in the Organization within a matter of hours from the time the purchase is finalized.


11) What happens if I license a geofence and I don't see it in my account?
Please contact Gimbal Support for assistance.
12) Can I share Premium Geofences with my partners that are also Gimbal clients?
Gimbal Premium Geofences cannot be shared outside of a single organization.


13) If I license Premium Geofences, are they in my account indefinitely?
Premium Geofences will have an expiration date according to the quote.


14) If I license Premium Geofences, do they work across all my apps and organizations or do I have to license individually for each?
Premium Geofences will work across all apps within a single organization, however they will not work across organizations.


15) Will Premium Geofences appear in all the user accounts within a single Organization?
By default, all Gimbal Manager users will be able to browse Gimbal Premium Geofences via the Geofence Import page. Upon purchase, places will get created in the Organization thus allowing all manager users in that Organization to access and leverage those places.